I'm back in the yarn business again. I wasn't going to, I know, but I just couldn't help myself. I love beautiful yarns. I can't in all honesty say it was against my will. When I was given the opportunity to design them to my very own specifications in the colours I desire I was like a moth to a flame.
I've always been in the search for the perfect yarn, aren't we all?  Normally my first choice would be wool and there are many wools that I love but let's face it I live in Queensland, Australia and there are only 6 weeks a year I can wear it, and even then I  would have to stand outside,  on the football field, after the sun goes down to wear it.
So what would Jenny King choose when she could design any yarn herself you may ask. Well let me tell you
Probably the most important is that it feels wonderful to work with and can be worn close to the skin. Something that makes me feel delicious when I am working with it and/ or wrapped in it.
Secondly something thicker than fingering weight (4 ply) so that projects get completed quickly
A yarn that has good yardage so that my projects are light and not too dense.
A yarn that looks like I mortgaged my house to buy it but is affordable.
I crave soft cotton in sludgy colours that my girls in their 20's love to wear, as practical staples. Cotton is best blended with some acrylic to make it lighter to wear and less dense.  But it had to be mostly cotton.
I decided to start with 6 colours as staples in neutral shades and I've called the yarn Stonewash. Think denim casuals without the blue. It includes what I've always referred to as Expensive Brown. I called it Jacobean: think dark coffee beans.  A charcoal grey I've called Twilight the black you are having when you are not wanting the formalness of black. A soft beige pink colour that is so popular with All Saints in the UK. I've named it Rose Quartz. Intense Gum is the darkest of greens without being black; Jacuzzi is a bright exotic Aqua for a contrast and fun. And lastly, but not least, is the softest pale grey which I've named Shimmer. It is everyone's favourite neutral.
Stonewash is the essential summer cotton, the softest baby yarn and the most luxurious and practical for home wares. It will make winter clothes here in the tropics too.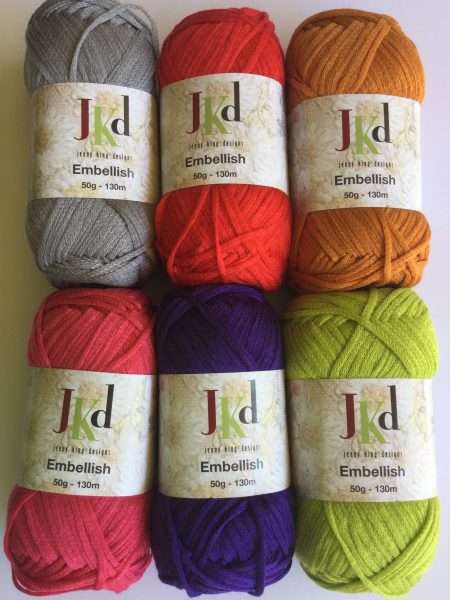 Yes, Jenny King and neutrals are not necessarily a natural match if you have seen some of my outfits. OK, I do covet the exotic colours of the silk I used to stock.   Yes I do.   So I devised 6 exotics colours as well with all the sheen of silk without the weight. I had this  made in a tube construction, like a mini French knit tube (I- cord  for USA friends)so that left or right handed crocheters will not have to worry about  S or Z twist which has had so much notoriety recently. It is lofty, without the weight, and the softness and sheen are amazing. Out of all the colours in the world  to choose from I chose Fig,  a real royal purple, Tangerine, a soft orange, Kiwi, a bright clear lime green, Tomato, a bright exotic red , Flamingo a pure  semi-hot pink  and Dove, a mid grey, that looks like a rich silver when worked up.
I am so excited I'm like a dog with 2 tails. Add these to my first yarn "Fantasy" and I'm in yarn heaven. Now watch the designs appear. I feel  a little like a Whirling Dervish.