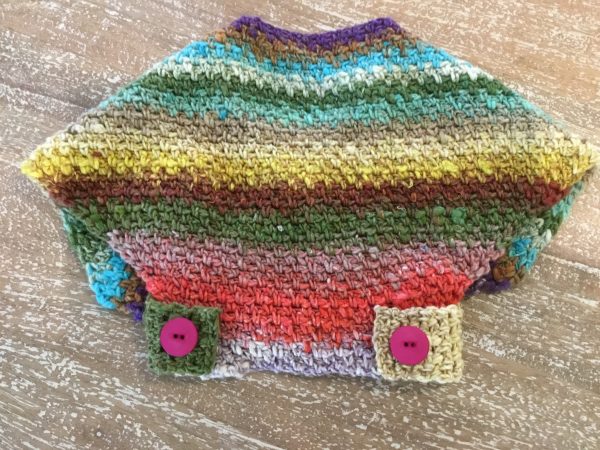 Many years ago I saw a knitted baby wrap in an Ashford magazine. It was perfect for little "wee" babies to keep their arms wrapped up and cozy warm. I used to sell my crocheted version of that pattern in my first yarn store near Buderim at least 12 years ago.
I finally had a chance to see if the design actually worked with our first little grandbaby who was conveniently born before winter this year, and it did. Since  I made the first couple of Snuggle Wraps I had made one in Noro Taiyo. It had been hiding in "THAT PILE" and it was just a waiting for the buttons to be sewn on. You may know "THAT PILE" ;the please finish me and don't start something new yet, until I'm finished pile.
It is finished now and I went to add the new photos to update the old pattern onto my web site only to realise that the Baby Snuggle Wrap has never been an  online pattern and none of you would have ever seen it.Baby Snuggle Wrap – Jenny King Designs
Our first little darling is too big for this one in Noro now that the buttons are finally on, but there may be more coming later???? Fingers crossed.
So, if you have a little precious due in Winter then you may like to make one for them. Noro – Taiyo yarn – at KnittingFever.com
This discovery does make me wonder how many patterns have been hiding like this one and will reveal themselves to me over time. Perhaps we will discover this together. I promise I'll show you.
Here is  our first  beautiful grandbaby sound asleep in her Snuggle Wrap.