2018 is a new year and a time for new beginnings. It has a great feel to it don't you think? I've taken over what once was the family room in our house as my new sewing, craft room, office. Sorry kids it is all mine. Our son has a new job, our daughter has just settled into her brand new unit and my husband is retiring so we finally went to Tamworth Country Music Festival in our new caravan and that was brilliant.  Life is good. Happy Valentine 's Day to you. I hope you have a wonderful day on the 14th and everyday this year.
And finally I can draw breath about Kids Squared. I know I launched it on you just before Christmas when everything was a hectic blur, but now, like me, you may have a chance to take a look at the preview.  I made my first top down matinee jacket 34 years ago when I was expecting my first bub.
What I have done is taken the simplicity of that concept and refined it, and made it into a video using the granny square stitch. As with Get Squared  I truly believe it will revolutionize the way we make Jumpers, Jackets, Cardigans, Hoodies, Shrugs, Dresses really anything for babies, and also anything for boys and girls up to 12 years.  And because it is top down as the kids grow the garments can too. Longer dresses, longer sleeves, longer sweaters, just add rows. It is so fast that some garments only take from 1 night to 1 week to make. I kid you not![ no pun intended]  And there are 21 patterns included.https://www.jennykingdesigns.com/product/kids-squared-online-tutorial/
The word about Get Squared has been spreading.
http://www.feltedbutton.com/2018/01/get-squared-with-riverwashed.html
I'm hoping you saw Better Homes and Gardens last Friday night, no not because they featured crochet or anything, but what they did feature was  the cruise ship Celebrity Solstice.  This is the ship that is hosting our Crochet Cruise in March. Looks great! I can't wait. I've been assured that there will be another next October so if you missed out on this one there will be a chance in 2019.
Now I'm just checking on you to see if you have been reading this all the way to the end. For those of you who have I would like to offer you 50% off, Yes 50% off all the JKD yarn as it is my 1 year anniversary of the JKD yarn. So that is Stonewash, Fantasy and Embellish. But there is a deadline.  This offer is only available for Australia and the offer expires this Sunday night 18th February at midnight.
This year sees me teaching at Dallas DFW Fiberfest, http://dfwfiberfest.com/
podcasting with Marly Bird, teaching  my first Kids Squared class at Crochet Australia, teaching at weekend retreat at Uralla Wool Room, at Jumpers and Jazz in July in Warwick .  It will all be up on the events calendar. That van I mentioned is going to get a workout this year. See you somewhere soon I hope.
And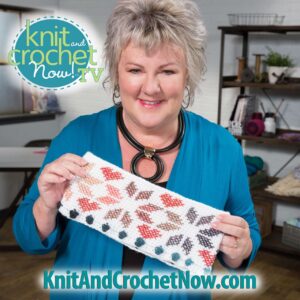 if you can't get to see me in person you can watch me here! Knit  and Crochet Now season 8