Do you have a little one coming into your life either as your brand new baby, grandbaby or a friend's baby then I have the most exciting news. Or do you want to make some simple yet trendy garments for you older children? If so I have the solution. I have used the ease of the Get Squared ® technique to create a children's range of crochet garments that require no seams, are worked from the top down, and like Get Squared ® require you only to know the age of the child or their chest measurement to complete the garment. Simple repetitive stitching, no wordy patterns, no seams and quick easy garments are a promise.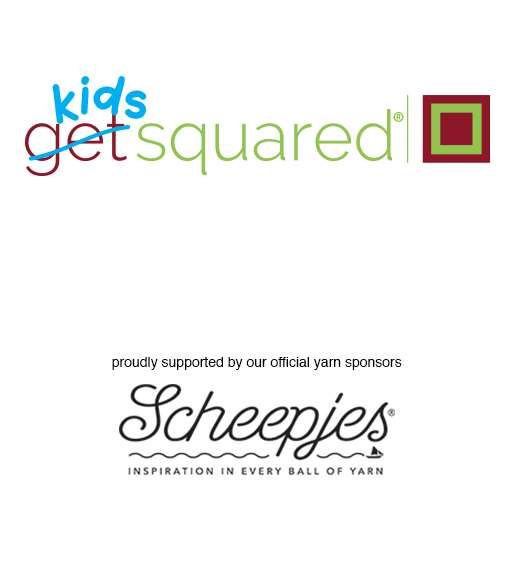 The sizing in Kids Squared range is from newborn and every year to 12 years so I am very excited. I am also thrilled to annou
nce that Scheepjes yarns are the official sponsor for the Kids Squared designs. I just discovered their yarn and I am delighted with the way it works up and especially the wonderful bright colours that kids adore. Working with their yarn is a pleasure.
The filming is about to begin and the online course will be ready for the Christmas market. So if you have fallen in love with the ease and wonderful simplicity of Get Squared® then you are going to love the adorable garments in the Kids Squared range. And if you have never had the pleasure discovering the Get Squared ® technique, that will not matter. This is a fully inclusive course and is a perfect "I've just learnt the stitches in crochet" beginner class. There are 5 standard designs:
1. The sweater/jumper, dress and tunic,
2. The cardigan, jacket and hoodie,
3. The extended front cardigan and jacket,
4. The V- necked jumper/sweater, cardigan and crossover jacket,
5. The shrug and swirl cardigan.
Yet, in saying that, there are about 22 designs variations that you can use for every age. AND there are no wordy patterns and no seams. I know I've said that before but I think it needs to be said again. Sounds impossible, and yet it is just that, POSSIBLE. And as an extra bonus in this video tutorial you will see pockets, hoods, bows and collars are all demonstrated so that every design can be as individual as your little person. I can't believe it is true,I want to pinch myself!
Make sure you are subscribed to our e-news – CLICK HERE – and Follow Me on Facebook so you are the first to know when Kids Squared is released!